I am associated with numerous science communication and outreach initiatives around the Research Triangle area of North Carolina, and beyond.
Science Communication Training: I was the chair of ComSciCon Triangle 2019, a workshop designed
to empower STEM graduate students in Research Triangle of North Carolina to communicate the concepts in their field and beyond to diverse audiences. I was a co-organizer of the 2018 workshop, where I moderated a panel on 'Pitfalls of Science Communication', organized the Write-a-thon activity and Expert Review Lunch, and facilitated pitching of attendee pieces to outlets like Scientific American and American Scientist.
At UNC, in my capacity as the Vice President of the American Association of Pharmaceutical Scientists (AAPS) Student Chapter, I facilitated the planning and execution of a Science Communication Bootcamp in January 2019, in collaboration with other student groups.
OncoBites: I co-founded a cancer research science communication blog called OncoBites where a team of graduate scientists and Ph.D.s with a passion for cancer research has gathered to share cutting-edge research with a wider audience. As of Aug 2019, about 30 authors around the world have contributed about 100 bite-sized articles, approximately five minute reads that share what is exciting in the field of cancer research, with over 20,000 views in more than 100 countries.
Cancer Research in a Nutshell  Aug 2019, Scientific American (A Co-Founder's perspective on OncoBites, a website that offers short, easy-to-understand reports
on what's new in the field)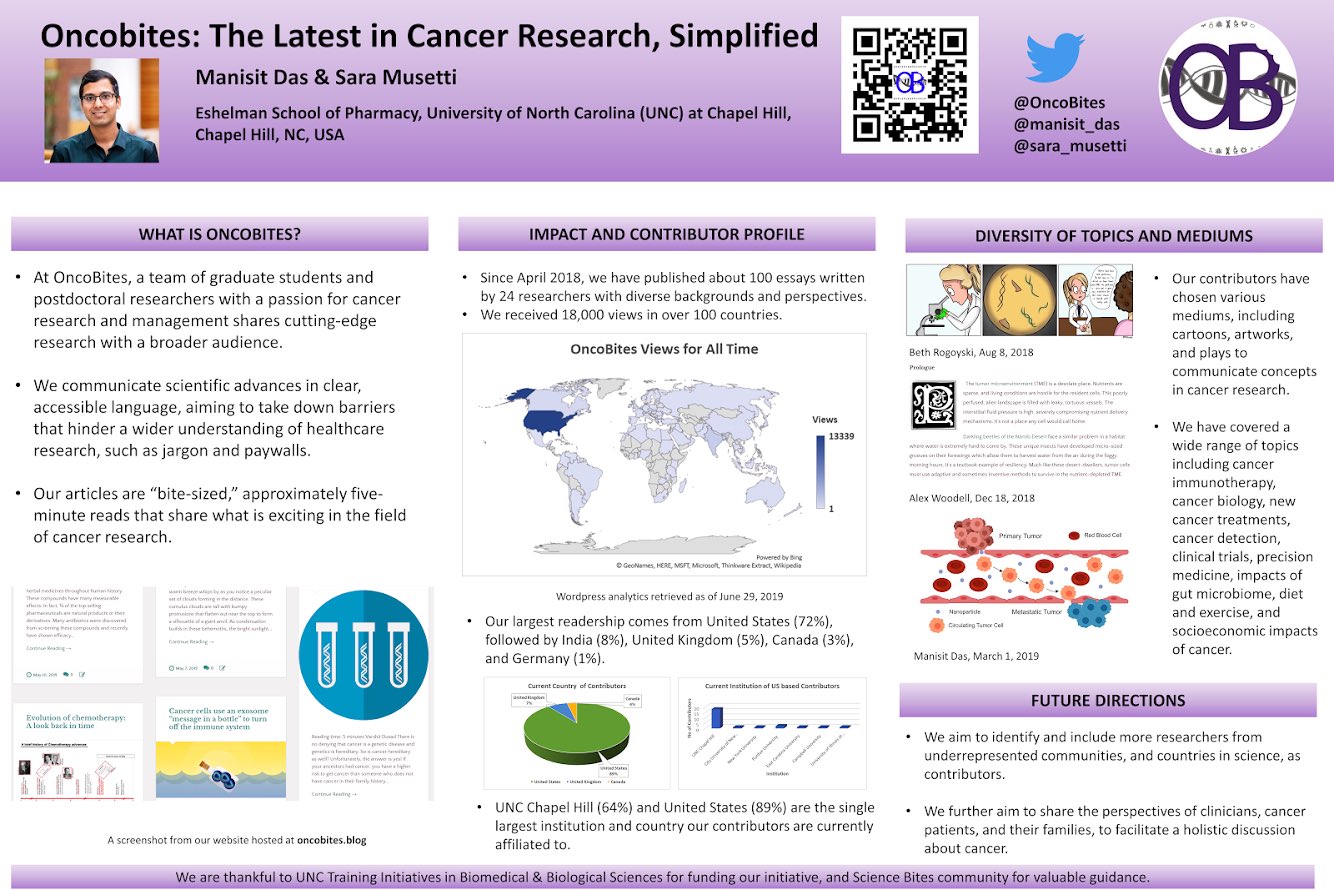 Science Writing: I have written numerous scientific pieces for wider audiences. A list is attached:
It takes two brakes to stop cancer? May 2019, Oncobites (Highlighted by F-Star Biotechnology Limited)
Early Detection of Pancreatic Cancer: Did we figure out the warning signs? April 2019, Oncobites
Falling through the gaps: Do nanoparticles enable cancer cells to escape through leaky vessels? March 2019, Oncobites
Patterns in combat: Using old cues in the battle against cancer, January 2019, Oncobites
Double agents save the day?, Nov 2018, OncoBites 
Profiling the killer: Using gene sequencing to guide management in pancreatic cancer, Sep 2018, OncoBites
Feeling the 'heat' from neighbors: Microenvironment driving cancers in the gut, Aug 2018, OncoBites
Stumbling before the beast: Not all cancer clinical trials end in drug approval, July 2018, OncoBites
Immunotherapy in Pancreatic Cancer: Does Bacteria hold the answer? May 2018, OncoBites
Engineering aggressive breast cancer subtype may allow more treatment choices Apr 2018, OncoBites
One Cancer Drug to Rule Them All? Mar 2018, The Pipettepen, UNC Science Writing and Communication Club
Burn Baby Burn! For the Longleaf Pines Oct 2017, The Pipettepen, UNC Science Writing and Communication Club
Can I Be Positive About My Negative Data? Aug 2017, Verve
Yes, I Experiment On Animals For Scientific Research. No, I'm Not Inhumane Jul 2017, Youth Ki Awaaz
UNCseq: The Journey from Cancer Biopsy to Cable TV Nov 2016, The Pipettepen, UNC Science Writing and Communication Club
Is Better Hygiene Causing More Allergies? July 2016, The Pipettepen, UNC Science Writing and Communication Club
Science Outreach: I have presented different scientific topics in health sciences and biological sciences before audiences of elementary school to high school students, and adults, in different settings ranging from classrooms to science museums.